Master's degree
"Text Technologies: Creating Electronic Content"
Applying digital technologies in publishing and other humanities for research studies
Instruction on cutting-edge technologies for creating and editing electronic content provided by professional practitioners
Opportunity for performing research, applied and project activity

The program is aimed at mastering modern technologies of electronic editorial-and-publishing process. The program implies training MA for professional activity in electronic content. The graduates provide editorial make-ready of electronic editions; promotion and distribution of printed and electronic information, managing publishing processes. Education includes applied and project practice training in publishing houses and organizations situated in Tomsk and all over Russia.

The purpose of the program
is to train highly qualified specialists for modern electronic book publishing industry having extensive and intensive knowledge in text activity and virtual communication, professional skills of producing electronic content of high demand.
Program advantages

Modern knowledge and technologies in electronic publishing activity

Designing one's own project concerning electronic content

Acquiring making-up and editing skills for digital publishing activity

Performing a research or a project
Mastering subjects
Philology in the system of modern humanities
Basics of book publishing industry
Modern electronic book publishing industry
Managing innovations in book publishing industry
Information technologies
Business English
Design methods for web resources
Graphic packages
Multimedia editions and design technologies for mobile applications
Interactive editions
Making up. Advanced
Social media (social networks) (campus)
Media-design and photojournalism in the global market
Technologies of preparing the content for book readers
Theory of text
Technologies of creating media content
How to launch an enterprise (campus)
Organizing labor activity (campus)
Fundraising (campus)
Communicative technologies in modern business (campus)
Modern literary process
Sociology and psychology of a modern reader
How to enter
An entrant should file an application within a period from April, 1st to August, 10th, 2016 (for studying for free, 7 places are available) or August, 25th (fee-based education).
For entering the program BA, specialist or Master's diplomas are required. A candidate should pass entrance examinations:
1. Oral exam on "Publishing and editing".
2. Interview on the major topic.
Maximum score for an exam is 100 point (therefore, an exam and an interview counts for 200 point). An overall applicant's score is calculated as a sum of scores for an entrance exam and an interview (taking into account a mark for graduation thesis and an average grade for all of the subjects in BA or specialist diploma accurate to a tenth)
The enrollments starts after the entrance examinations are over.
Foreign citizens need to have an education equivalent to BA and a document certifying the level of proficiency in Russian (B2 and higher).
Fee-based education: 78000 rubles a year.
There is a discount offer for students
Documents:
Documents required for the application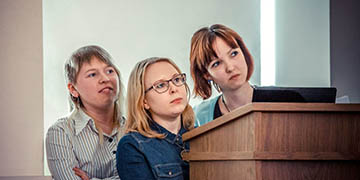 Perspectives for employment, professional and research activity
The master's graduates may work with electronic content in a publishing houses, editorial offices, printeries, book selling enterprises, and are competent enough to work at higher and specialized secondary educational institutions. They may provide editor's make-ready, turnout and distribution of electronic editions, teaching and research activity in publishing business.
Interested?
Apply right now!