The Russian ranking agency Round University Ranking (RUR) has published the results of two subject rankings: humanities and social sciences. In both areas, the university is in the gold league, ranking 2nd among Russian universities in the humanities and 3rd in social sciences. Moscow State University was the Russian leader in these areas.
In the humanities, Tomsk State University was ranked 174th among the universities of the world and 2nd among Russian universities. This year, TSU increased by 7 positions.
In the social sciences, TSU ranked 166th among the world's universities and 3rd among Russian. The first and second places in Russia were taken by Moscow State University and the New  Economic School, respectively.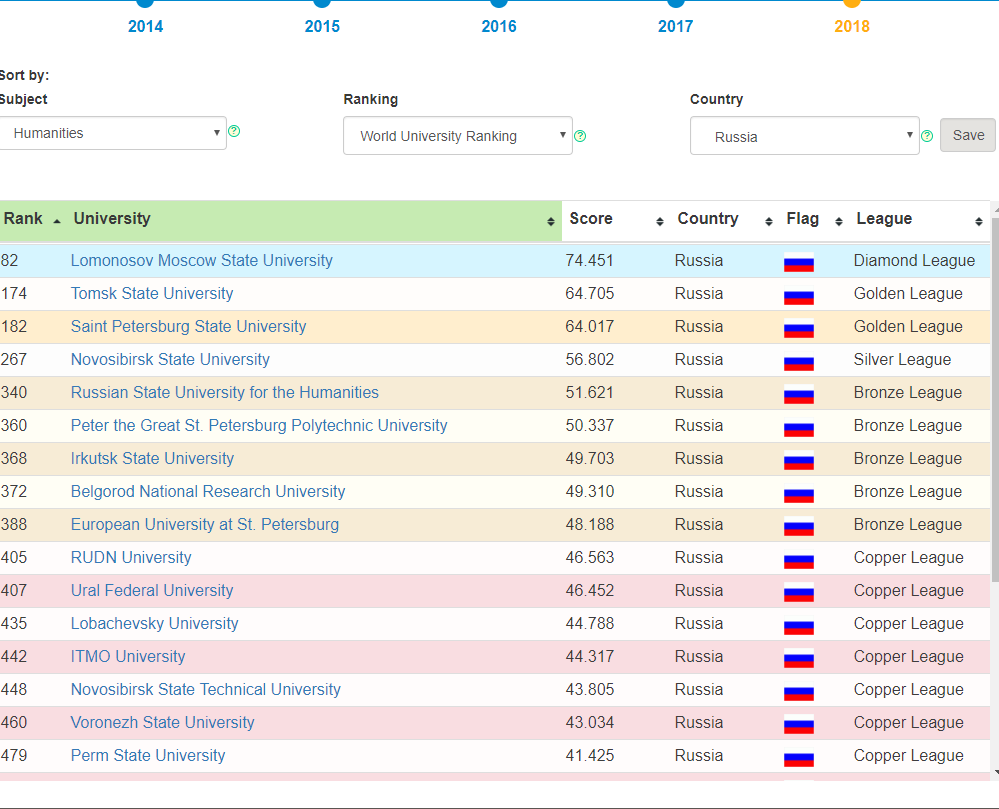 – We are steadily growing in the world RUR ranking: in all areas we have high positions, and this means that the university is developing as a classical one,- commented Ivan Ivonin, Vice-Rector for Academic Research. – This growth confirms the correctness of the vector of development that we chose when joining Project 5-100. Then we decided not to destroy any directions for the sake of momentary jumps in the rankings, but to develop them together. And if at first, only some departments were very strong, now there is an alignment: we are moving along a wide range of modern sciences and education in a united front.
The Vice-Rector stressed that the uniform development of all areas of the university was one of the main achievements of the past five-year period. Going ahead, the university has a no less complicated step to make to adequately complete the current Project 5-100 and in 2020 enter the first hundred of the best universities in the world.
– The growth of both the representation of Russian higher education in global rankings and the positions of leading universities indicates a systemic increase in the influence of domestic higher education in the world, its recognition. That, in turn, is a direct consequence of the federal university development programs implemented in recent years, primarily the Project 5-100, – noted the materials of the ranking agency Round University Ranking.
The Round University Ranking (RUR) is an international university ranking published by the ranking agency RUR with Clarivate Analytics. The ranking assesses the activities of 1,030 leading universities from 85 countries of the world over 9 years (2010-2018) in 4 areas of universities' activities: quality of teaching, quality of research, level of internationalization, and level of financial sustainability. In addition to the overall ranking, the RUR includes 30 subject areas: the humanities, life sciences, medical sciences, natural sciences, social sciences, and technical sciences.